Krzyzanowski: Spelling and Name Variations
1. Spelling and Name Variations
---
Today there may be many spellings for Krzyzanowski. Reasons may include poor translations, causing basic mistakes, when originally immigrating or changes made for simplicity.
Krzyzanowski
Krzyzanowska, feminine version replaces the i with an a.
Krzyzanoski, woops forgot the w!
Kryzanowski, skipped that pesky z.
Krzyzanowskich
Krzyzan
2. Nicknames
---
Kriz
Krizzy
Krzyz
Shiz
Shizzy
Krazy
Ski

Join Us on Facebook!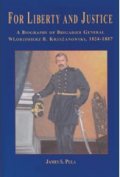 (Hardcover July 2009)